Combustor coating slurries (up to 1100°C) can substitute energy and material intensive pack diffusion processes.
We offer slurries for chromizing and aluminizing treatments and pack processing materials.
Our masking materials Spritzschlicker and Topbond MO24 are extensively used to protect blade segments within aluminizing or chromizing pack processing.
Topbond-OX helps to protect TBC coatings from hot gas corrosion and spallation.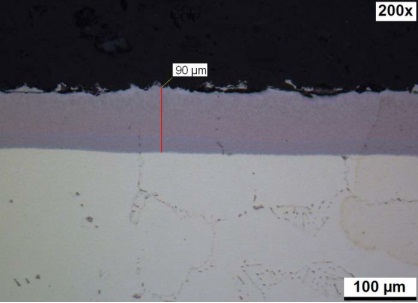 Diffusion coating: aluminization – cross section metallography.
Our quality engagement
M-M-Morant stands for high quality products. We are certified according to ISO 9001:2015. Our products are produced with incoming order and have a shelf life of 6 months.
Combustor/Turbine section slurries up to 1100°C
Diffusion chromizing slurries (up to 750°C)
Chromium (VI)-free (REACH compliant):

Diffusion aluminizing slurries (over 800°C)
Chromium (VI)-free (REACH compliant):

Pack processing materials
Masking materials for CVD/pack diffusion process
Basebond:
Spritzschlicker SP 5/3
Spritzschlicker SPP
Topbond (catcher/scavenger):
TBC protective coating